Practical info
Rules and regulations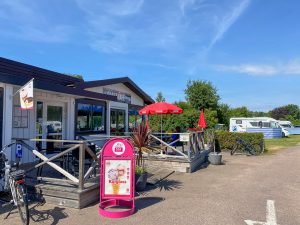 Check-in from 1 pm. Check in is open every day until 9 pm.
Check-out no later than 12.00. In the event of a later check-out, a new daily fee will be charged.
Departure before 8:00 am check-out is done the day before.
unless otherwise agreed.
It is NOT permitted to charge the electric car in the campsite's electricity poles.
There are electric car charging stations opposite The Driftwood resturant
Safety: There must be at least 4 meters between caravans/campers.
Electric cables must be approved for outdoor use.
No barbecues on the ground due to the risk of fire. Stones to put under the barbecues are
available to borrow.
Disposable grills are not permitted.
Fire equipment is available on site, check where you will find the nearest one.
One car per site inside the area.
Only those registered on arrival may stay in tents and caravans.
Respect the speed limit of 10 km/h within the camping area.
Between 11.00 p.m. and 7.00 a.m. it must be quiet, when we lower the music and talk more
quietly.
In July, the barrier is closed from 23.00 to 07.00 – then no car traffic applies in the area. After 11
pm, we ask you to park the car outside the campsite.
Should a problem arise, someone disturbs you or something urgent happens at night, call our
guard on +46 709 76 11 22.
During other months there are other opening hours for the gate, you can find the hours on our
bulletinboard by the entrance to the reception/Café.
The reception and shop/ice cream café are open every day during high season. In pre- and post-
season the opening hours may vary, for current opening hours see notice board or website.
For everyone's comfort. Help us keep the campsite clean and litter-free.
The water keys must not remain in the tap.
Leave the common areas in the same condition as you would like to find them.
For everyone's comfort and safety, no cooking or washing up in the kitchens between 10.00 pm
and 8.00 am.
Water points, garbage containers and service buildings are not playgrounds.
Throwing and kicking balls among the tents and caravans cannot be accepted, help the children to
find places suitable for playing and ball games.
There is an extra child seat to borrow – don't forget to return it when you no longer need it.
There is a bus stop outside the campsite. For bus times see notice board.
Dogs are welcome at our campsite but must be on a leash and be walked outside the camping
area.
For those with reduced mobility, we have a private bathroom with shower and toilet. There is a
wheelchair in the bathroom to facilitate showering. Just tell the reception when you check in to get
a key that you then have throughout your stay with us. The handicap baathroom is only for the person in need of it.